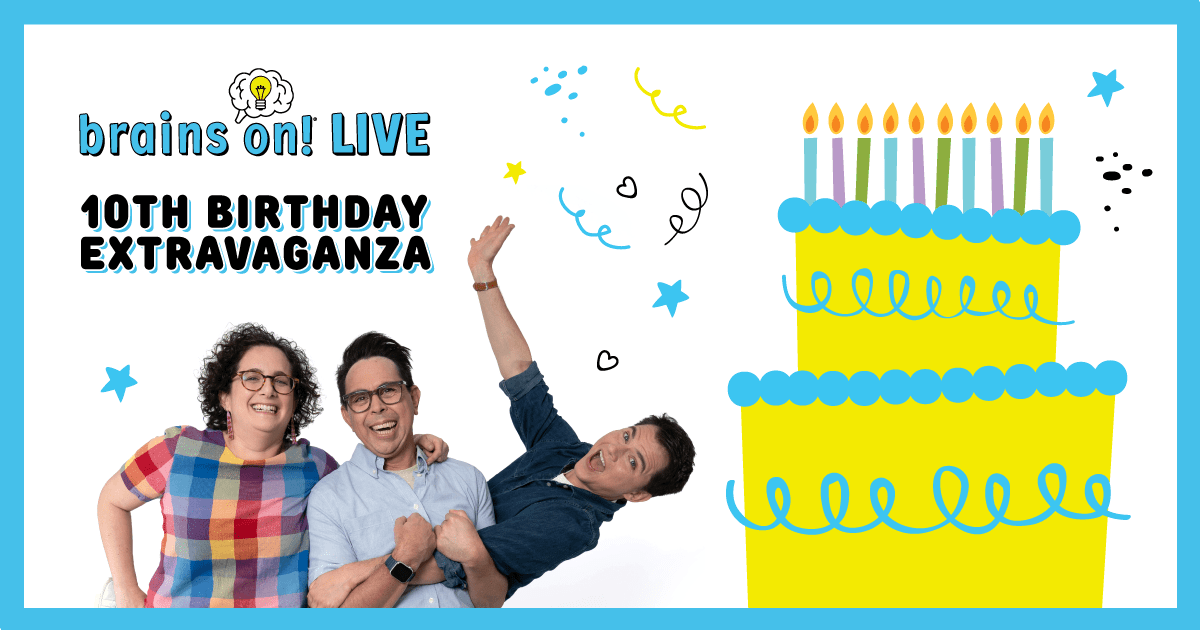 Brains On! Live: Your Brain is Magic
Brains On! Live Show:
Brains On! - the wildly popular science podcast for kids - is coming to a theater near you to celebrate the show's 10th birthday. Hosts Molly Bloom, Marc Sanchez and Sanden Totten will be there with magic tricks, dance moves, out-of-body experiences, mystery sounds, and even a game show! All the while, kids (and their grown-ups) learn how our brains take a handful of signals from the eyes and ears and turn them into a vibrant picture of the world.

VIP Birthday Party:
After the shows in Portland and Seattle and exclusively in Los Angeles, we are throwing ourselves a BIRTHDAY PARTY. Seats are limited, but you can gain access to this VSP (very special party) by purchasing a VIP pass when you buy your Portland and Seattle show tickets - or buy them solo in Los Angeles. Yes, it's really a party with games and songs and goodie bags and more, but spots are limited so we suggest fewer adults accompany more kids. Hope you can be one of the lucky few to snag a ticket!
DATES
Portland, OR — Saturday, June 17th, 2023 at 2pm PT
BRAINS ON! LIVE SHOW & BIRTHDAY PARTY
Revolution Hall | 1300 SE Stark Street, Portland, OR 97214
Learn more and buy tickets here
Seattle, WA — Sunday, June 18th, 2023 at 2pm PT
BRAINS ON! LIVE SHOW & BIRTHDAY PARTY
Town Hall Seattle, Great Hall | 1119 8th Avenue, Seattle, WA 98101
Learn more and buy tickets here
Pasadena, CA — Sunday, June 25th, 2023 at 3pm PT
BIRTHDAY PARTY ONLY
Crawford Family Forum | LAist, Southern California Public Radio
474 S. Raymond Avenue, Pasadena, CA 91105
Learn more and buy tickets here